A Sad Loss
On the 25th August 2019, Glyn Williams passed away.  Our condolences to Wendy and the rest of their family.
Glyn was the younger brother of Adrian, our vocalist and back in the 60s he was one of our roadies.  After we started playing again in 2013, Glyn came to many gigs and along with John Beardmore, acted as our official photographer.
As with many photographers, it is rare to find pictures of themselves.  Having searched through the thousands that John and Glyn have taken, I managed to find one taken at our Brentwood Festival gig in July 2017.
Please Click to post any memories of Glyn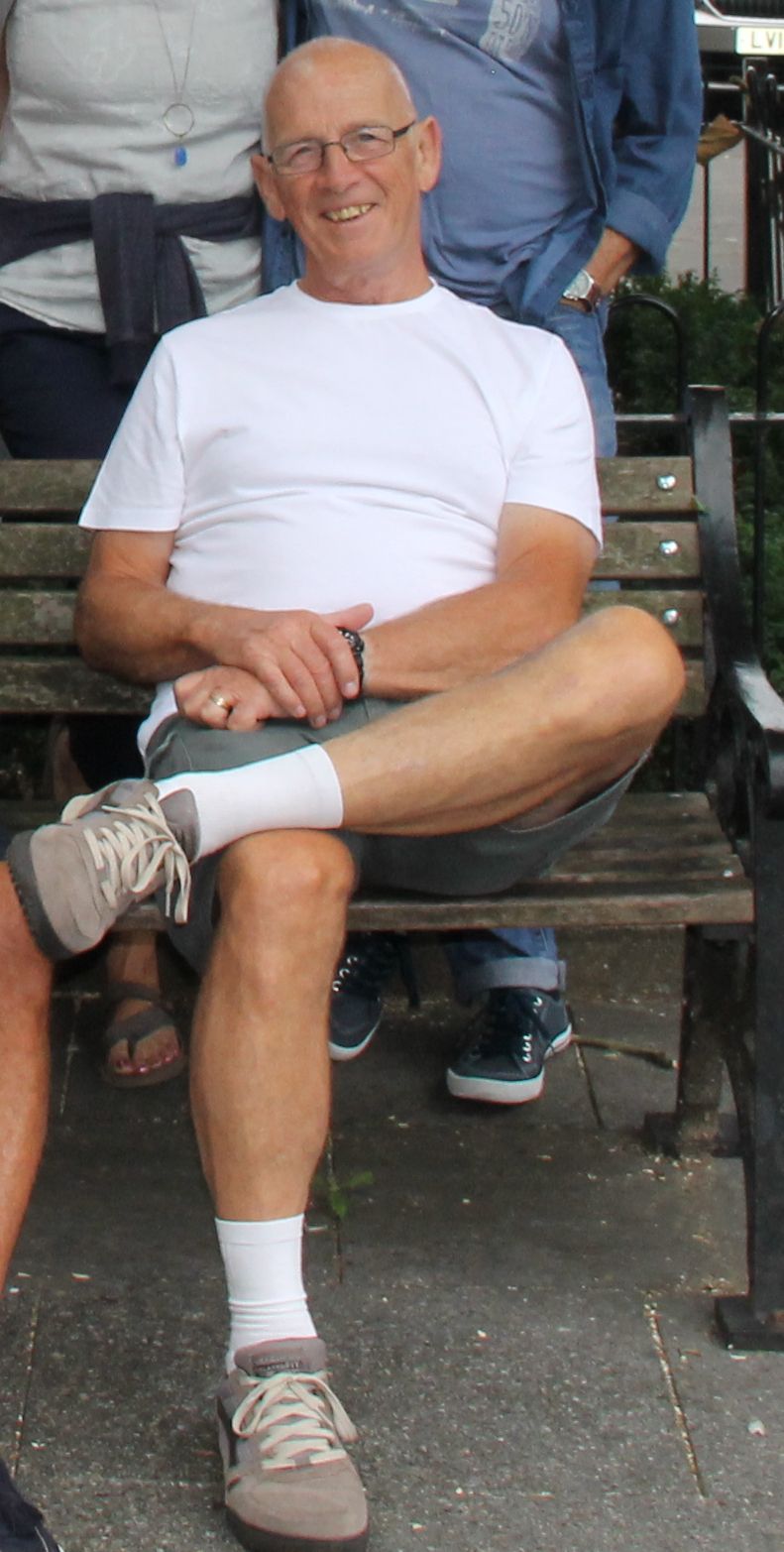 RIP Glyn Williams
1948 - 2019
The following are some of the memories of Glyn, taken from the Birth to Reunion book
My brother Adrian had joined with a few other lads to form what was to become a pretty popular beat combo, to use the posh idiom, in truth they became a very competent R&B/Soul group, and they called themselves 'The Pieces of Mind'. 
I passed my driving test in May 1965 and acquired a 1960 Ford Anglia which I thought was the business, anyway I was prevailed upon by Adrian and his new friends to help transport some of the equipment for this burgeoning pop group. 
This situation continued for a while; however it became apparent that what we needed was a van. We eventually bought a Commer mini bus in a kind of army green, the Commer was the preferred van of choice for most groups. Thus I stumbled into the position of driver/roadie. I must have driven the group thousands of miles in the few years I was driving for them; we mainly did Newport and the Valleys but also went further afield to Birmingham, Cardigan, Llanelli and Hereford. 
There were many things that went on during that time although it's hard to recall every one; I remember a gig at the Snakepit in Newport. The Four Tops had released 'Reach out I'll be there' which was hugely popular with the people at the club. The group sat in the van during the break at the gig and practised the song, when they came back on for the second half and performed it the crowd went nuts. 
After a gig somewhere we went for a curry in Pontypool, which was almost compulsory after a gig. I noticed a jam omelette on the menu for 2/6d, I asked the waiter what jam it was, meaning was it Strawberry or Raspberry and he replied Robertson's. I had never had one before or since although it was OK. One of Phil Edwards more disgusting habits, and he had few, was to pick his nose in the curry house and he would rub his bogies in the fluffy wallpaper. 
At many of the gigs around the valleys was this chap that everyone called 'Mad Merv'. This chap's party piece was to eat beer glasses. Anyway for some reason he seemed to take a shine to the boys and as such became the group's resident minder around many gigs. If there was any trouble we would just mention it to Merv, and he would sort it. 
I remember a gig in either Cwm or Abertillery in a school, the group was using a science lab as a dressing room and either Andy or Ducksy or possibly both did something pretty unpleasant in the inkwells and a waste paper bin. The group never got a repeat booking for some reason. 
One night in Tredegar at The Miners Club I think, which was just opposite the clock tower in Tredegar, the band was tuning up and someone came over and said you're too loud. The boys turned it down a bit and carried on tuning; over he comes again still complaining. In the end we all had enough of the moaning so we packed up and left and probably went for a curry.