In 2013, we started thinking of how we could 'make a record', something we had never achieved in the 60s.  A few of us in the band had started writing their own songs, so we believed we had sufficient material to complete an album of originals.
Andy had been writing stuff since the 60s and both Adrian and myself had started writing.  So, between the three of us and other members of the reunion band, we thought we should be fine.  The next things to consider were 'where, when and the most important, how much it would cost'. I then started looking at potential studios and possible dates that would suit our requirements. 
In the meantime, Adrian was spending time, in the days following our 'Live at the Vault' session, visiting friends in London. While there, he met up with an old friend, James Dean Bradfield from the Manic Street Preachers. He happened to mention that the Pieces of Mind had reformed and were thinking of recording an album. James offered us the use of their recording studio in Cardiff and had also arranged for their engineer, Dave Eringa to work with us.  Dave had recently finished working on 'Going Back Home', the Wilko Johnson/Roger Daltrey album and apparently liked working with 'old men'. The Manic Street Preachers were starting a UK tour in the Spring of 2014, so their studio was free for a few days in March 2014. We could use their studio as long as we could make it the third week in March.
This presented us with a dilemma. Yes, we were confident that we had sufficient material to produce an album of originals, but we were not sure that we could achieve this in the time. It was now coming up to Christmas 2013 and the choice and arrangement of nine or ten songs for the album would require many rehearsal sessions. Even if we could fit these in before the third week in March, we would almost certainly require more studio time than was available. 
So, I held several email conversations with mainly Adrian & Andy to come up with the nine or ten songs. We initially thought we should forget about originals and just do cover songs; however, we soon came around to thinking that a fifty/fifty split of covers and originals may be achievable in the time remaining. After much debate, we decided that, in the short time we had available, we would concentrate on four originals and fill the rest of the album with covers we usually played at gigs. 
It was relatively easy to decide on the covers and in a short time we came up with the following:
Hoochie Coochie Man

I Wish You Would

Neighbour, Neighbour

Night Time is the Right Time

You Don't Love Me. 
We had been playing the first three songs since the 1960s; were all familiar with 'You Don't Love Me' and had been experimenting with an old song that Ray Charles had sung, 'Night Time is the Right Time'. 
That left the question of which originals we should include. Back in 1966, we used to play a song from Andy called 'I Need Someone'. Andy had taken a fresh look at the lyrics and I came up with a different intro. We also changed the tempo so it was more of a rocker.  Andy's wife, Jane, referred to it as the 'Gertcha' song when she first heard it. Andy suggested we should have a go at another couple of his songs. 'Judgement Day' had been around since the 1980s when Andy used to play it in Moira and the Mice.  The second one was relatively new called 'Walking in the Shadow of Today'. Adrian had come up with a song called 'Into the Light', which he perceived being played as an acoustic number.
So, we had 9 songs to try and record in the 3 days we could have access to the studio. No problem, the biggest task we would face would be sorting out who was playing what on each song. With the then 9 in the band, that was going to take some sorting.
Around this time, we received the shocking news that Phil Edwards had passed away suddenly from a heart attack, when returning home to Spain after a holiday. We had scheduled a few practice sessions in Wales and as we had been asked to play a song at his funeral, we decided to do an acoustic version of 'Bring it on Home to Me' with Andy, Vic and myself on acoustic and Adrian doing vocals. The funeral was held at Romsey Abbey, in Hampshire, on the 7th March 2014. Despite my messing up the start, we managed to get through it. A first for Romsey Abbey must have been the music played when the coffin was being taken out.  The vicar, a lady, didn't have a CD with the song that Phil loved, so we suggested they play something from the BRFM Live at the Vault session. The first track was 'I Wish You Would' which Phil had played on.  It was amazing to hear the song blasting out in the Abbey. The song would also end up being the first track on the album. After the funeral, we had just over a week to rehearse and arrange the 9 songs. It was going to be tight, but we would give it our best shot. We decided to spend a few hours in a rehearsal studio located in Chepstow.
On Monday 17th March 2014, we all headed for Faster Studios, which was situated in a courtyard not far from Cardiff Central station. We all managed to find it, fairly early in the morning, and also secure parking in the small courtyard. The next 2-3 hours were spent setting up and micing our equipment.  James told Adrian we could use any of their equipment if we wanted. A full set of drums was already set up, however, Ted wanted to use his own, so that took the longest.  I can understand people wanting to use their own equipment, however with hindsight, I should have persuaded Steve and Ted make do with the drums already set up. If they were good enough for Sean, who plays drums with the Manics, then I'm sure they would be fine for Steve and Ted. Perhaps just use their own stools and snare. Anyway, by the afternoon we were all set up and ready to start recording.
Over the next 3 days, we managed to record the 9 songs we had planned, working from early morning to well into the late evening. Myself, Adrian, Andy & Vic stayed in a local hotel, so we could walk to the studio, the rest travelled daily from the Newport area.
Most of the songs were done in 2-3 takes, with little or no overdubs. I obviously dubbed harp on 'I Wish You Would' and slide guitar on 'Into the Light'.  I don't play slide, so after a few attempts of messing it up, Dave Eringa put some gaffa tape over 5 strings, leaving the 'G' string open.  The slide, which is only in the choruses, just involved 3 notes, all played on the 'G' string. The problem I had was hitting adjacent strings. The gaffa tape helped a lot and after a couple more takes, it was in the can. 
Andy added some rhythm guitar to 'Judgement Day' and  'Walking in the Shadow of Today' at the desk.  Bob did most of his keyboard work in the booth with the band. I think he overdubbed his solo in 'Neighbour Neighbour', but the majority was done live. Ric played all of his sax stuff as overdubs inside the booth.  Most of were done in 1 or 2 takes, however he did spend longer on the solo to 'Into the Light', which probably took him 5 or 6 takes. The rest of us, sat around the desk, loving every take, particularly the last 2-3 notes.
Adrian and Andy did tracking vocals inside the booth and then replaced them at the desk later.  Backing vocals for 'I Need Someone' and 'Night Time is the Right Time' were done in the booth afterwards, often with much hilarity.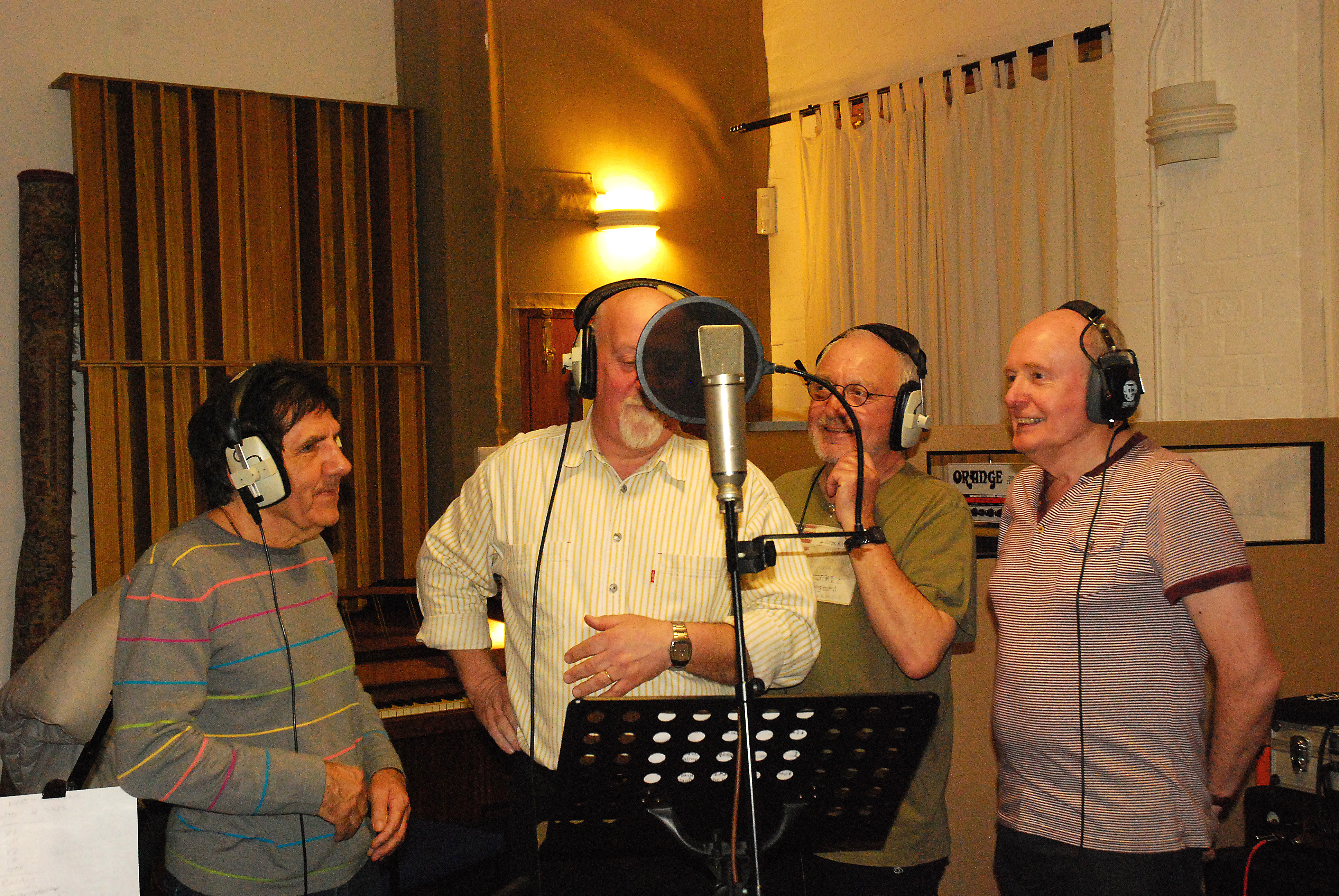 Night Time is the Right Time Backing Vocals
Left to Right: Vic, Bob, Andy, Me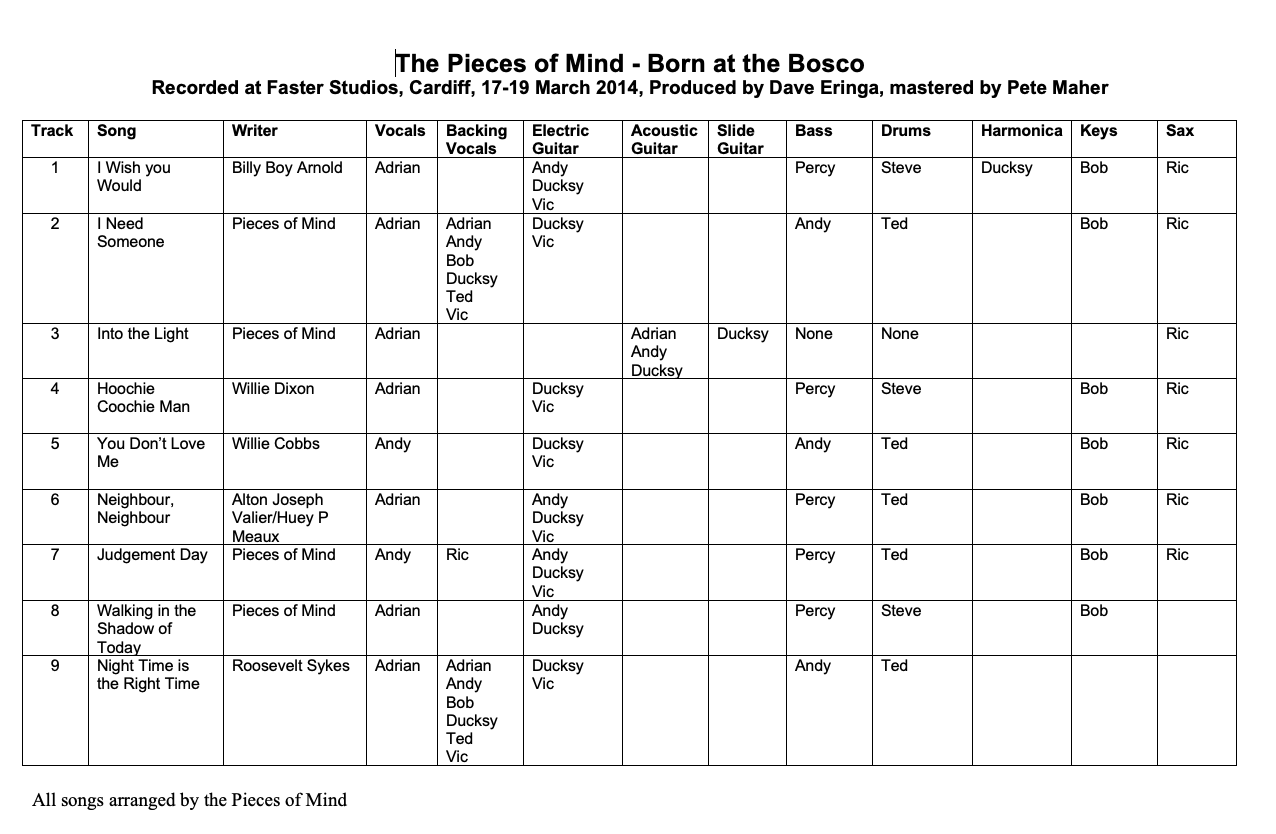 There were 9 of us in the studio at times, but not everyone played on each track. The players were: Adrian Williams, Ted Dyer, Andy Gibbon, Vic Johnson, Ric Lawton, Robert 'Percy' Price, Steve Strong, Bob Teague & me.
After we finished the recording, the next few months were spent reviewing the mixes that Dave Eringa sent us.  There was some delay due to Dave being on holiday, but the time allowed us to think about how we were going to get the album manufactured, released and distributed.  We also had to decide on a title for the album.
Adrian had worked many years in the record industry and still had many contacts who could offer advice or help. He arranged for three of us to meet up with one of his old friends in London, who pointed us towards businesses that could manufacture and distribute the album.
Andy & I had met with Ron Rogers, of T'Pau, who owns the Up the Lane Recordings studio in Monmouth. This is the place that Andy's other band, Times Up, record their albums. Ron recommended we use Pete Maher to do the mastering of the album. Pete had worked with numerous artistes, including the Rolling Stones, so we thought if he's good enough for them, then he would be fine for us. I got in touch with Pete and arranged for him to master the album, once the final mixes were back from Dave Eringa. 
In the meantime, we had to quickly come up with a title for the album, so I asked the band members for proposals. I received 40 suggestions including such delights as:
Sod 'em, we're insane

Bins and Inkwells

See You at the Next Funeral

An Answer to a Spinster's Prayer
As we had to come up with a title fairly quickly, for manufacturing, I decided it was better for just Adrian, Andy and myself to vote on a title. From the 40 choices, we each selected 4, to potentially go on to a second round of voting.  As it turned out, all 3 of us chose one title 'Born in the Bosco', which eliminated a need for further voting. Adrian suggested a minor change, so the title became 'Born at the Bosco'.
The album was manufactured, distributed and released to various outlets, such as Amazon and iTunes in January 2015. It had taken us decades to 'make a record', but we had done it. 
We thank James, Nicky and Sean of the Manic Street Preachers for the use of their studio. It allowed us to do what we should have done 45 years earlier. Whatever happens in the future, the Pieces of Mind finally had a musical legacy.
Finally, we decided to dedicate the album to Phil Edwards who sadly passed away a few weeks before we went into the studio.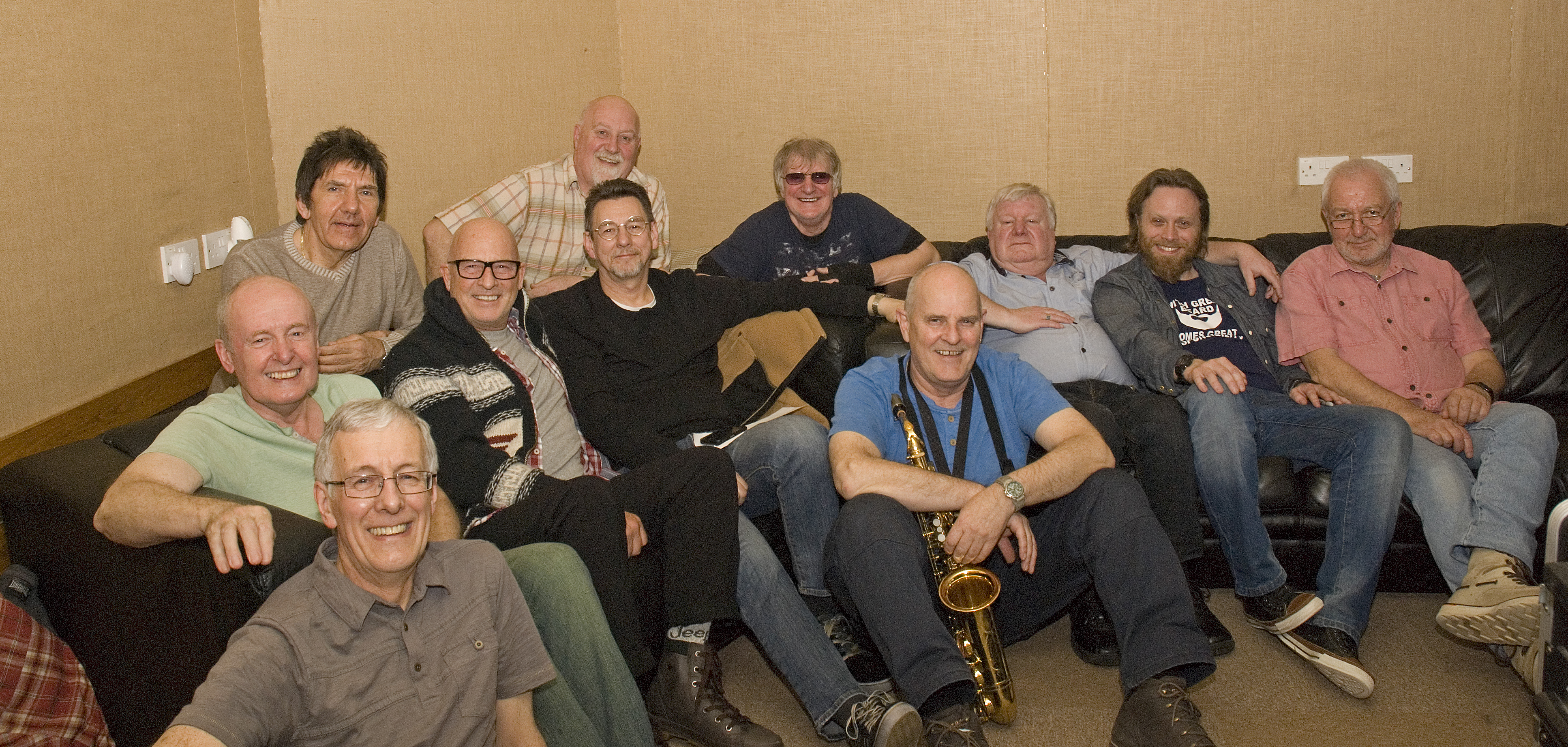 The Band & Engineer
We all managed to sit down for a pic, automatically taken by John Beardmore on front left. Sat on the sofas, left to right are: Me, Adrian Williams, Ted Dyer, Steve Strong, Dave Eringa & Andy Gibbon. In front is Ric Lawton with his sax. At the back left to right are: Vic Johnson, Bob Teague & Robert 'Percy' Price.